More than 100 Affiliate marketers since 2021.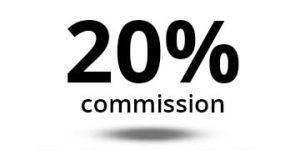 How do I sign up for your referral program?
You will need to fill out our Referal Programm Registration. After the registration process you will receive an email containing all the information you need to get started and supplementing your income.
How often are commissions paid?
Commissions are paid every month, with one month waiting period. For example all commissions earn in January will be paid out on March.
How are my sales tracked?
Your sales are tracked when they are made through your referral or website link. Cookie is valid for 30 days.
Is my website eligible for the Referral Program?
Most websites qualify to participate in the Referral Program, but we reserve the right to refuse membership or revoke your membership at any time if we determine that your website contains objectionable material, such as defamatory content, pornography or other content of an adult nature. We allow affiliates to promote their own landing pages on Social Media (e.g via Direct Messages) to deliver traffic to Socialnovo.com. As long as no fake or spam traffic reaches our Socialnovo.com site from your landing page, we will accept you as an affiliate. However, we do not allow automatic redirects from your website to our website. Your visitors must come to us voluntarily. If we observe any irregularities or suspicious traffic, we will contact you immediately. Important:  We are not responsible for how the affiliates generate traffic to their own website. As long as the website itself is accepted, we usually accept you. Nevertheless, under no circumstances should fake traffic be delivered to our site. We also do not tolerate illegal spam (e.g. via unverified email lists). If we find out about this, we will exclude you as an affiliate.
Can I use the content from Socialnovo.com ?
Yes, you can build your website/landing page similiar to Socialnovo.com. You may also use our customer testimonials.
Can I use more than 1 site to promote Socialnovo?
Yes, sure. Keep in mind that after registering on our affiliate programm, we will check all given sites. Once approved you may start promoting.
What marketing techniques, for example, are allowed?
Feel free to forward the affiliate link or your landing page to potential buyers on social media. SEO-optimized websites or blogs are also welcome.
Can I earn commissions on my own purchases?
No, you can't.
Is there a minimum payout amount and do I get paid?
Yes. The minimum payout amount is $50. By default, payouts to affiliates are made through PayPal or store credits. If you wish to use alternative payout methods, this will need to be discussed with our team beforehand.
I don't have a blog or website, how can I benefit from this Referral Program?
You can share our promo video below to your friends on social media. Be creative and be sure to include your referral link. Though we encourage you to create a landing page to promote our business.