How to get more Twitter Followers in 2022
Over 320 million users worldwide use the short message service Twitter. Registered users have the opportunity to publish small status updates – the so-called "tweets" – with a maximum of 140 characters, which interested parties can then read and reply to with "retweets". Numerous public figures such as artists, politicians and athletes have long recognized the potential of Twitter and communicate with their fans through "microblogging" – many of them have several million followers.
Why it is worth having a lot of Twitter followers
Not only people benefit from global networking, but also companies. They use their tweets to present new products and technologies or inform followers about planned trade fair appearances. Unlike other platforms, direct marketing is allowed on Twitter. The more followers read the short messages and react with a retweet, the greater the reach of the respective message – and the company name or product, the more people are talking about. If the company tweets regularly, this has a long-term positive effect on customer perception. That's why many companies invest time and energy to generate more followers on Twitter. In addition to the purely practical benefit of a large following, the number of readers is also a matter of prestige. Because if competitors manage to find more Twitter followers, this is not necessarily a general quality feature, but at least a sign of more effective Twitter marketing.
Meanwhile, Twitter also plays a role in the SEO area that should not be underestimated. In the meantime, the published tweets are also included in the search results from google. Specifically, this means that you can improve your ranking in the search engine results through a high level of Twitter activity.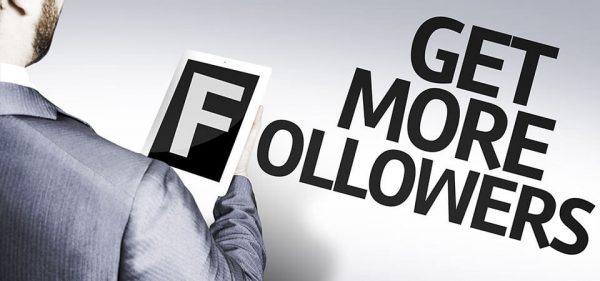 So...How do I get more Twitter followers?
If you have just created your Twitter account or if you haven't done much to optimize your existing one, you should bring patience and time. You don't get a profile with a strong tweet reach overnight. However, if you approach the task with the necessary ambition and heed the following tips, the chances are good to find Twitter followers or to get new Twitter followers and thus gain a foothold in the Twitter network in the long term.
1. Optimize profile
Create a meaningful and complete profile! Your profile picture and the information provided tell potential followers who they are dealing with. Put the brand, the product or what distinguishes you or your company stylishly in the foreground. Do not see the self-description as a laborious mandatory requirement, but see it as an opportunity to differentiate yourself positively from the competition
2. Link Twitter to your own website and social media
Use the option to include a tweet button on your website. This leads visitors to your site directly to your Twitter profile. If your company is also represented in other social media, it is advisable to also link to your Twitter account in these (and vice versa).
3. Varied, content-rich tweets
You'll gain more followers on Twitter if your tweets add value. Before following you, interested users will in all likelihood read your older posts first, which is why you should aim for consistently high quality. Take your time to find varied and interesting topics – regularly rely on exclusive links and multimedia content.
4. Tweet regularly and at the right time
Topicality is the Twitter keyword par excellence. Your followers do not want to be provided with sporadic reports, but with regular posts. Try to keep your tweet quota permanently and publish at least two tweets per day (more likely). When it comes to publishing, orientate yourself primarily to your readers, who experience has shown to pay attention to Twitter before work starts and after work. Also, consider tweeting the race on the weekend.
5. Use hashtags
By assigning your tweet by topic using the pound sign (#), your contribution will be listed when searching for the respective keyword. With these so-called hashtags, you may gain one or two followers who you would otherwise not have reached. However, you shouldn't use too many or even misleading or unrelated hashtags – the aim here is to find the right amount.
6. Follow followers yourself
Whenever you get new Twitter followers, you should return their favors and follow them as well, otherwise there is a risk that they will quickly unsubscribe from your channel. In this way, you also secure the possibility that your posts will be answered publicly and your tweet will thus gain reach. Conversely, if you followed them first, you might also gain a follower.
7. Clean up your followers
While cleaning up your account will rarely be necessary in the beginning, this aspect becomes increasingly important as the number of followers increases. To avoid follower limits, you should periodically remove accounts that have not followed you from your list. If this is too extensive and confusing at some point, tools like Friend or Follow can help you with useful filter and sorting methods.
8. Communication
To benefit from the networking through Twitter, there is no easier way than to seek and maintain contact with the users of the short message service. Participate in interesting and current topics, share other users' posts that you think are worth it, and thank you for retweets your posts.
The tips listed only cover a small spectrum of the numerous optimization options with which you can gain more followers for your own Twitter account. The more extensive and time-consuming your work with the communication service becomes, the more useful special tools for maintaining the Twitter account become. Such programs for administration, tweet publication and statistical analysis are very helpful with several thousand followers at the latest.
9. Should you buy Twitter Followers ?
Is Buying Twitter Followers a Good Idea? Yes, but it depends. Make sure that you don't consider any dubious dealers. A bunch of bot accounts can damage your account or even lead to it being banned. Ideally, you get your followers from well-known and reputable retailers like SocialNovo.com. You will get a good quality of followers and this will make you look even more attractive to new Twitter users. Buy more Twitter Followers here.
Choose your Twitter Promo Package