Why should you buy Spotify Followers?
Are you an aspiring musician or a podcast creator looking to take your Spotify profile to the next level? Look no further! Our exclusive service allows you to purchase country-targeted Spotify followers, helping you grow your fan base in the most influential music markets worldwide.
🇺🇸 USA, 🇬🇧 UK, 🇩🇪 Germany, 🇫🇷 France, and 🇨🇦 Canada – choose your preferred country and witness the power of a highly engaged audience from your desired region. Gain real Spotify followers who are genuinely interested in your music or podcast content. It's time to captivate listeners in the countries that matter most to you!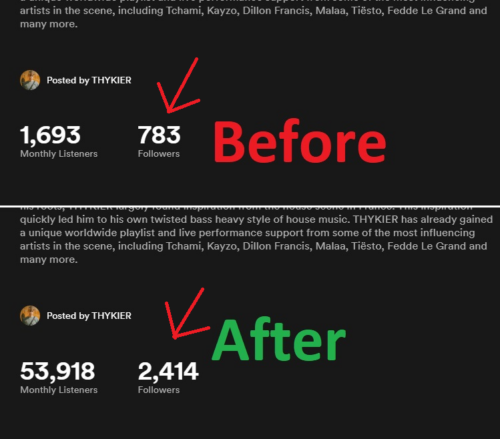 Amplify Your Reach: By targeting followers from specific countries, you can effectively expand your presence in key music markets. Imagine gaining a loyal fan base in the USA or building a dedicated audience in the UK – the possibilities are endless!
Establish Credibility: A large number of country-specific followers not only boosts your follower count but also enhances your credibility as an artist or content creator. Potential listeners are more likely to give your music a chance when they see your popularity in their own country.
Attract New Opportunities: As your Spotify following grows in specific countries, you open doors to exciting opportunities like live performances, collaborations, music festivals, and even media coverage. Maximize your chances of being noticed by industry professionals!
What Customers say about us
I am a lifetime customer because of your incredible Spotify Services. The artists I manage are receiving more Followers and Streams because of you ! God bless you !
Outstanding service. Followers came in quickly and when some dropped after months I sent a refill request and you kept your promises. Well done, guys !
FAQ - Most Frequently asked questions